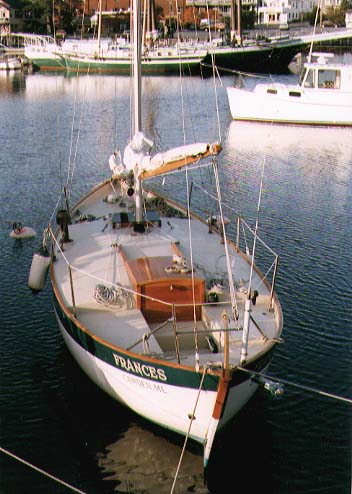 Morris Frances Brochure
Let us introduce you to FRANCES, a classic cruiser of traditional profile built in hand layed-up fiberglass using the finest materials and craftsmanship. She represents the ultimate combination of comfort and sailing ability in a compact cruiser for coastal or offshore sailing.
The original FRANCES was designed and built by Naval Architect Chuck (C. W.) Paine for his own use. His idea was to reduce the size of the more well known Colin Archer double enders, in order to reduce the problems (crew requirements, upkeep cost, original cost, restrictions to cruising grounds due to deep draft) inherent in the larger ocean cruisers. At the same time, those attributes which have gained acceptance, as necessary for safety and comfort at sea, namely; heavy displacement, the double ended stern, and sufficient ballast, were retained. FRANCES presents an alternative for those seeking quality and economy in a modern yacht.
Our FRANCES 26 is a sistership to the original FRANCES. Hulls are solid, hand laid fiberglass out of a female mold, laminated to suit the requirements of a displacement cruising sloop.
You may select the gelcoat color according to your personal preference. While the standard interior shown in the drawings is highly recommended, we are happy to consider alterations to fulfill an individual owner's requirements. If you choose to fit an engine, we can install one of various small diesels. Sails, perhaps a self-steerer, and a few minor items are the only options. In every case, your FRANCES will be built to your individual requirements.
The construction of our FRANCES 26 is given careful consideration. Ballast is a solid lead casting through-bolted using 3/4 inch bronze bolts. Decks are laminated plywood over oak deck beams, covered with fiberglass. They are bolted and epoxy glued to heavy fiberglass flanges at the hull-deck joint, and this joint is completely glassed over to eliminate any possibility of leaks. Plywood for the bulkheads is Duraply marine grade . . . the best available. All major interior bulkheads and joinerwork are ½ inch thick, individually glassed to the hull and underside of the deck. Deck fittings are of marine alloy welded series 300 stainless steel, or bronze, and are oversize in all cases. Rigging is of the highest standard, with standing rigging of 3/16 inch 1 x 19 stainless steel wire, and running rigging of laid Dacron line. Hatch joinerwork, toe rails and exterior trim are of varnished mahogany or oiled teak. Spars are of varnished sitka spruce or aluminum with stainless steel tangs. While we respect the owner's choice for sailmaker, we are able to supply sails for your FRANCES 26, which we have found to be of excellent cut and workmanship.
The all wood interior is painted white with varnished mahogany or teak trim. What seems to please our customers most is that the entire hull is lined, where visible, with a lovely blond ceiling of varnished white pine, making one unaware that the exterior is fiberglass. The cabin sole is of oiled teak. The galley area is surfaced with white Formica, and three inch, Naugahyde covered foam cushions are supplied for all berths. As is only proper, in our opinion, all necessary interior appointments are standard; including a marine toilet, stainless steel sink with outboard drain, fresh water pump and tank of 15 gallon capacity, two burner kerosene or alcohol cook stove, bilge pump, compass (boats with engines) electrical cabin lights, and well planned stowage areas.